Vaadi saffron soap review
Hi my Angles!!
So recently I had been shopping online from Nykaa and just to save shipping charges I just added the vaadi saffron soap to my cart. I don't know but for some reason I still prefer soap bars over shower gels, especially the glycerin ones as they are so delicate to the skin. So today I have for you the Vaadi saffron soap review.
Price:
INR 33 for 25 gm.
Packaging: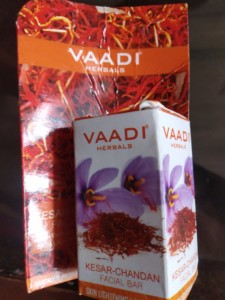 The soap comes well packed in a cardboard box and then inside just a simple bar of soap, nothing fancy, although I did like the variant which is smallest size as it is travel friendly and packaging looks really cute.
Key ingredients: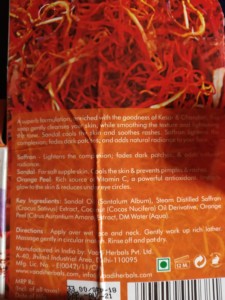 • Saffron : Lightens & Softens Skin. Adds Natural Glow.
• Goat Milk : Mildly Bleaches Skin. Evens Skin Tone.
Product description:
Enriched with multi-mineral-rich content of Saffron & goat Milk, this soap lightens and evens your skin tone, while cleansing away pore-deep impurities. It gently fades away pigmentation marks and blemishes; and grants you a fairer & flawless complexion!
Vaadi saffron soap review
My experience:
So this tiny soap bar is deep orange in color, much like saffron. As soon as you open the packaging, you will be surrounded with this amazing fragrance of saffron that I absolutely loved. It didn't seem to be artificial or chemically, but that of real saffron. So it did lather well, and made my skin really clean. Also it wasn't moisturizing to the skin, but neither did it make my skin dry further. I did feel that it gives a slight glow to the skin, so was impressed with that. All in all, I really liked it and it worked really well for me. I actually have started using in place of my face wash, and it works pretty well.
Pros:
• Suitable for all skin types.
• Cleans the skin well.
• The fragrance is really good.
• Gives a light glow to the skin.
Cons:
• Couldn't see complete ingredient list, which makes me suspicious.
Ratings:
4/5
Do I recommend?
Yes absolutely, it has an amazing fragrance that's not over powering and I think most people will like it.
Will I repurchase?
As it must have been clear from my review, I will.
VAADI HERBALS UNDER EYE CREAM REVIEW
The Body Shop Tea Tree Skin Clearing Face Wash Review: