The Body Shop Mango Lip Butter Review
Hello to all my beauties! I hope you all are enjoying the sweet showers of monsoon. Well, not me! Surprised, right? I like to roam around a lot and the heavy rains don't allow me to do so. That's the reason why I am not enjoying a lot these days. But the silver lining, even though I am confined within the walls of a mall, I can stalk the beauty outlets which is one of my favorite things to do! Just the other day, I was shopping at the mall for some fashionable clothes, but, to my dismay, my size of out of stock for a majority of cute styles. So, what to do with my loaded wallet? Just as I was wondering what to shop for, I saw 50% off sign outside of a 'The Body Shop' outlet. My eyes immediately sparkled and I ran off to purchase some products of my favorite brand. So, let us take a look at The Body Shop Mango Lip Butter Review and how this product fared for me.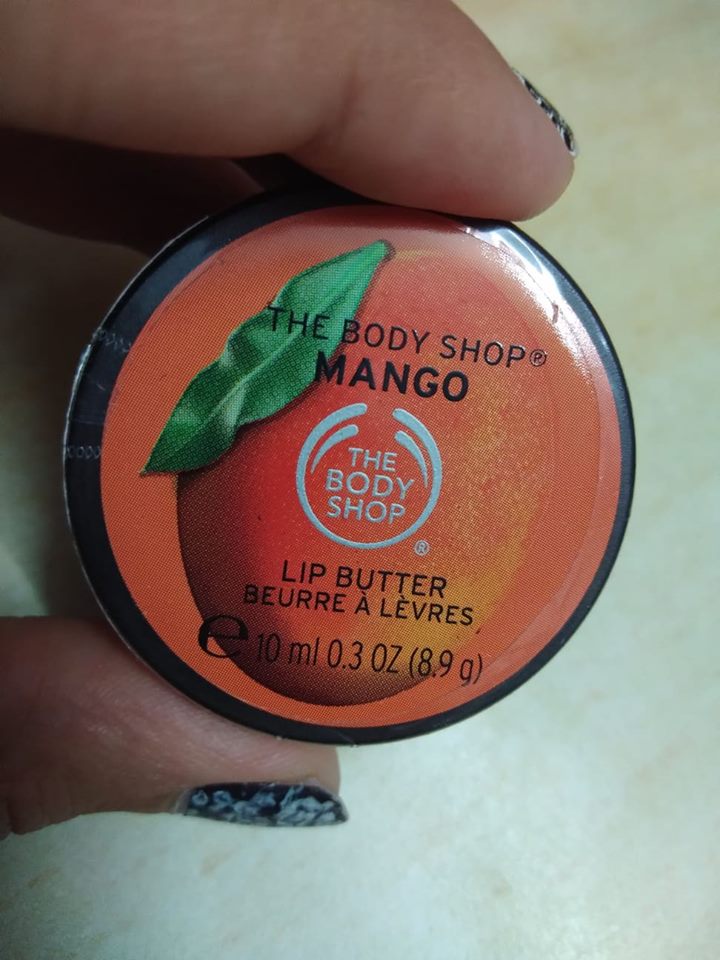 Price:

Rs. 245 for 8.9 g
Ingredients:
Butyrospermum Parkii (Shea Butter), Ricinus Communis (Castor Seed) Oil, Beeswax, Brassica Campestris/Aleurites Fordi Oil Copolymer, Lanolin, Mangifera Indica (Mango Seed) Butter, PEG-8 Beeswax, Flavor, Hydrogenated Castor Oil, Silica, Limonene, Tocopheryl Acetate, Ammonium Glycyrrhizate, Tocopherol, Geraniol, Linalool, Citral, Titanium Dioxide, Yellow 5 Lake, Red 7 Lake.
Packaging:

It comes in a regular plastic tub packaging where you can take the product out with your fingers.
The Body Shop Mango Lip Butter Review- My Experience:

First of all, I would like to tell you that I love mangoes as much as I love my significant other. So, that's a lot! Even though I went in to check out their tea tree range, this mango lip butter immediately caught my attention. I am well aware of the benefits of beeswax and shea butter for lips. And when my two favorite ingredients came in combination with mango seed oil, nothing could have stopped me from making this purchase.
As soon as I tried on the tester on my skin and smelled it, I was sure that I had to take it home. Plus, everything was on sale, so this was th lucky day for me! As soon as I reached home, I opened the tub and I'm not gonna lie, I literally wanted to eat every little scrape of this butter. It smells so delicious! Anyway, I somehow controlled the urge and took out a small amount with my finger. The products is peach-yellow-cream in color. It is easy to take out th product from the tub, unlike most other butters that are way too hard.
What makes other lip butters too hard is the excess of beeswax and the lack of butter and oil. I know, this fact is not related to the product, but I just thought this is something every beauty freak should know. And I got an opportunity to show off the knowledge I gathered from my research on cosmetics, so, why waste it! LOL.. 😛
Anyway, coming back to the point, I took out the product and applied it to my lips. Now, we girls tend to have unrealistic expectations when it comes to Body Shop products, so this little guy (The Body Shop Mango Lip Butter) had an immense amount of pressure on it! Anyway, the product glided on smoothly without any tugging. The hydration was amazing. It didn't feel greasy at all. And mind you, this is not a lip balm, it's a lip butter and it has the perfect buttery texture you are looking for. I have chapped lips and this butter does the job of healing them perfectly.
The staying power is nice. It even survived a meal. But I usually apply lip balm twice or thrice a day even in winters. If your lips are on an extremely dry side, you might want to reapply a couple of times during the dry season. It gives a subtle transparent sheen to your lips.
What Sets The Body Shop Mango Lip Butter Apart?
Most of you might be thinking that it is not worthy to spend such a huge amount on a lip butter. Afterall, there are many cheap options available in the market that deliver the exact same results. But the key factor most shoppers tend to ignore is the list of ingredients. Cheap chemical loaded products are bound to give the same excellent results just like expensive natural ingredients. The reason why The Body Shop Mango Lip Butter is expensive is because of the impressive organic ingredients it contains. It does not contain any harmful preservatives. So, basically, you are paying for the well being of your lips.
Is The Body Shop Mango Lip Butter Worth The Money?
Budget is the top priority when you are on the lookout for beauty and skin care products. And when it comes to The Body Shop, a worthless product can be a burden to the mind as well as the pocket. I am not a filthy rich girl. To be honest, I hesitate a lot when it comes to purchasing expensive products because let's face it, you can't spend all your money on your face when you have other expenses to take care of.
YES! The Body Shop Mango Lip Butter is totally worth the price not only because it does what it claims, but also because of the longevity. A little amount is sufficient to moisturize your lips without making them feel heavy or greasy. On an average, I apply this butter thrice a day and by looking at the quantity, I can easily say that it is going to last for more than four months which is quite sufficient considering the natural ingredients and the excellent quality. The fragrance is definitely a plus point if you are a mango lover.
Pros:
Sweet fragrance
Suits my extremely sensitive skin
Amazing texture
Impressive and beneficial ingredients
Paraben-free
Full money worth
Enhanced longevity (although that depends on your usage)
Cons:
I prefer glass packaging for lip butters, so the plastic one is a minor con for me.
Rating:
5/5
Do I Recommend The Body Shop Mango Lip Butter?
Of course! I can't oversell this. But if you don't like mango flavor, it can be your worst nightmare.
Will I Repurchase?
At some point in future, maybe. Not because I don't like it, but I wanna try other variants as I am an equally big fan of flavors such as strawberry and raspberry. Maybe I'll switch between the flavors from time to time if I like them all!
So, I hope this The Body Shop Mango Lip Butter Review helps my readers make a choice and my knowledge of the ingredients aid them in finalizing future purchases.
RELATED:
The Body Shop Skin Defence Review: Multi-Protection Essence SPF 50PA+++
The body shop pink grapefruit body scrub- Price, Pros, Cons and Rating
The Body Shop Pink Grapefruit Body Butter Review
The Body Shop hand Cream- Moringa
The Body Shop Tea Tree Skin Clearing Face Wash Review