How To Take care Of Your Skin In Winter- It's Not A Nightmare Anymore!
It is getting cold and the temperature keeps falling. While it might be a holiday season and you are always busy setting up your home and making desserts for Christmas, you tend to ignore the effect of harsh weather on your skin.A small change in your routine is essential to make the most of this holiday season without compromising on skin care.    Read ahead to know more about how to take care of your skin in winter.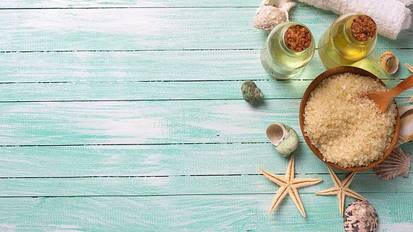 1.Dryness:
This is the most common issue during winters. Our skin gets dry and itchy sometimes leaving red rashes and other times frostbites. A healthy glowing skin is lost if you don't take proper care of hydrating and moisturizing your skin. If you tend to use water based lotions that you got for yourself in summers and still feel dryness then you might have to switch to oil-based moisturizers that avoid cracking and flaking of skin.
Besides that go for Olive oil and almond oil massage. Rub a generous amount of these on your body after a warm shower and let your skin have a soothing supple feeling.
2.Cracked feet:

It is more common to have dry hard and cracked feet which is painful and really not right companion during Christmas as you tend to wear more dressy things and heels.
Soak your feet in warm water and scrub away the dead skin. Apply a thick layer of crack heal cream on your cracks and a thick layer of foot cream or olive oil on your feet. Massage this really well and wear woolen socks. Woollen socks will not absorb the oil and keep it for your skin to absorb and heal.
Plus it will keep you warm.
3.Dry Hands and frostbitten knuckles:

This is most annoying as it can be easily noticed. Plus in winters you tend to expose your already dry skin to a number of detergents while washing your laundry or clothes and this is just making your skin more red and dry.
You should opt for a warm hand soak and apply a good amount of shea butter or cocoa butter based creams. Next, dip a cotton cloth in warm water and place it in your hands to steam them and let the oils nourish each pore. Now wear woolen gloves and let the skin absorb all the nourishment.
If you have had flaking skin, scrub away with a gentle honey and sugar scrub and then do above steps.
4.Soap:

Go for clear glycerin based soaps this season! They don't strip your skin of oils and help retain the moisture.
5.Facial skin:
Your face might feel dry and get red especially around lips and eyes.
Invest in a good shea butter based clear lip balms over the glossy ones and let it keep your lips more natural and soft. You may also find lip butters and use it as a night treatment for your lips.
For eyes, you may go for eye creams that ensure reducing dryness or simply apply a drop of almond oil in circular motions around the eyes.
6.Nails:
If you tend to have dead skin and flaky skin it is best to have cuticle oil handy at all times. Cuticle oils come in nail polish like packaging, you simply need to apply the brush dipped in oil on your cuticles and let it stay for 15minutes. Rub it away with a washcloth and apply a layer of moisturiser or oil and let your nails feel pampered and healthy.
7.Dark knees and elbows:
Another impact of harsh winters on our skin apart form redness is darkening. Skin folds especially at knee and elbow become dark and it is mainly because of dryness. You need to apply generous amount of intense moisturisers here and keep it nourised.
8.Waxing:
If you have dry flaky skin then hair removal option of waxing gets a little tricky. Don't subject your skin to methods that will dry it more and instead go for other measures like shaving gently with a good nourishing shaving cream. Post hair removal ensure you massage your skin with olive oil and scrub gently.
9.Scalp:
Dandruff again is common as dry skin dry scalp are common during winters.
Mix olive oil and castor oil and massage your scalp with the same.
Coat your strands with this mixture really well and wrap your hair in a towel that is dipped and wringed in hot water. This steams your hair and scalp making it easy to absorb the oils. Keep this for 30minutes and wash your hair.
Do invest in a good conditioner for your hair.We love the banana conditioner by The body shop.
10.Body Butters:
If you tend to hate all thick rich cream based lotions during the day then opt for body butters and use them as night treatment. Rub it on problem areas and let stay for a night.
11.Sunscreen:
Yes it is winters and cold wind is blowing even under shiny sun, UV ray protection is a must. Apply SPF 20minutes before you step out in the sun. Do not skip this step.
12.Masking:

Go for sheet masks during winters. Clay mask will be more drying and might leave your skin red due to irritation and dryness. Go for nourishing sheet masks instead.
13.Hair spa:
If you have been thinking of hair spa then this is the right time to go for it. You hair tends to break and fall more if not well kept this season. Take a good look at the offers made by the hair expert and choose more nourishing and conditioning hair spa options.
It is small things that we need to change to make our skin care routine more winter friendly and make the most of it.
Have a healthy and merry christmas.
Related:
Joy Honey and Almond Cream Review: Nourishing Skin Cream
Oriflame ESSENTIALS Cold Cream Review
Miraculous recovery of my scar (Thanks to Luminesce Cellular Rejuvenation Serum)
Aquasoft moisturizing lotion review
Spa Ceylon Luxury Ayurveda Green Mint Cooling Foot Scrub review
Luminesce Cellular Rejuvenation Serum product review
The Body Shop hand Cream- Moringa
Vaseline Intensive Care Aloe Soothe Review: Joy Honey & Almonds  CreamAloe Vera
Patanjali Aloe Vera Gel review or Baba Ramdev Aloe Vera gel review
Luminesce Daily Moisturizing Complex – Product Review
Product review: Instantly Ageless review (anti-wrinkle micro cream)
Dabur Gulabari Cold Cream Review
Boroplus Antiseptic Cream Review: Price, Pros And Cons
Dermadew Aloe Cream Review: How it worked on me and my baby daughter
Aromamagic Almond Nourishing Cream Review- Blossom Kochhar's Aromamagic Store