Organic Harvest Lip Balm Review- Shea Lip Repair
Many of us can relate to the habit of hoarding lip balms. No, I don't call it as stocking or collecting but hoarding, because it is hoarding! I mean come on, we have a pair of soft pink lippies and we need maximum two balms thrice a day. Now see the number of balms in your vanity kit it is not just twice or thrice of 2 balms but more. So let us admit that it is hoarding. I have had balms from almost every brand with varying formulas from ayurvedic, herbals to the fanciest packagings by EOS and so on. I tried a blob of shea butter by organics harvest this time. Something about the packaging and the cover made me go for it. I have used it for over a month now and thought of sharing the experience as we all are wanting to have the best this season for dry chapped lips. Here I am with a  detailed Organic Harvest Lip Balm Review.
1.Packaging:
No normal lipstick or Lip balm tin packaging. The balm comes in a small egg like plastic container with a screw cap and has a dome-shaped balm inside. The packaging is interesting and very much close to what EOS balms look like. Also, you can easily find it in your bag if we share the habit of (other than the habit of hoarding) misplacing or strewing these balms along with other tiny things in tote.
The color of this egg like packaging depends on the variants available, shea butter lip repair product comes in a yellow colored pack.
It takes less space but not easy to slide in your denim pockets compared to what another regular lip balm packaging is.
Sturdy – yes and travel friendly-yes.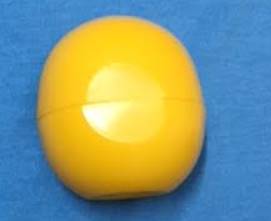 2.Ingredients:
Organic certified lanolin, Shea butter, Jojoba oil, BHT and food grade flavor.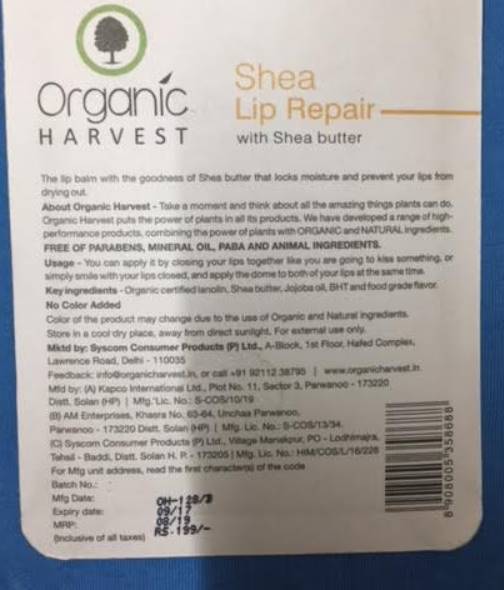 3.Price:
INR 199 for 10gm
4.Product description :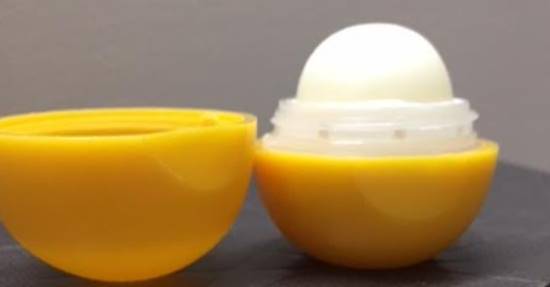 The lip balm, with the goodness of Shea butter, locks dampness and prevent your lips from drying out.
No color added.
The color of the product may change due to the use of Organic and Natural ingredients.
5.Organic Harvest Lip Balm Review- MyExperience:
The product comes in a dome shape and has no tint at all. I prefer balms without tint that repair the lips. It does not have any shimmer or gloss like effect which makes it my favorite, however, if you are into something that is very smooth and flowing buttery with a gloss like finish then you would not like this one.
I prefer this for two main reasons :
A.Does not make lips heavy and can be used in summers as well, does not make lips feel warm.
B.Leaves no gloss or shine
and hence can be used as a primer before applying lipstick and it will not affect the shade of lipstick you apply over it, this balm has a matte-like finish and hence can act as a primer as well as a balm.
My two concerns with this balm are that it is a bit less waxy or more on the dry side to apply or rub on lips but that is the case with the majority of the natural or organic balms.
Second it that it does not stay for very long and reapplication is needed, however, I still prefer this over Nivea fruity balms, I tend to reapply balm during the day and post meals so I did not have much expectation from this product either when it comes to staying power.
It might feel sticky to some, in that case just glide the product and then rub it with your fingers on your lips to warm it a little bit. On application, you might feel that there is nothing on your lips and you tend to rub more product on your lips but that might give you a white cast. Two swipes are more than enough with this product. It is light on lips and leaves no shiny or glossy waxy appearance on the lips.
The best part is the ingredients list, it compelled me to stick to this product by organics harvest.
I don't have very dry lips so I don't know of its repairing properties, but it is good as a regular balm to avoid any winter effect on your lips. I cannot comment on its lip repair or heal properties.
It does not darken the lips which were the case with me when I used Vaseline lip balm. It does not cause any irritation and I love the fact that it is just a humble lip product.
The product has a butterscotch-like fragrance to it but it is not overpowering, you will notice that only while application and it does not linger for long.
6.Pros:
Packaging is unique and can easily be located
No tint
No shimmer or glossy effect
Ingredients are natural
Fragrance is not overpowering
Matte finish post application
Texture makes it usable as primer for lips as well as balm
Light on lips
Does not make lips warm
7.Cons:
No SPF
Staying power is not that great, needs reapplication
Some might find it sticky
Not available easily- mostly online
8. Do I recommend buying Organic Harvest Shea Lip Repair Lip balm?
Well the product in itself is a natural one plus I see the dual use of this product as a primer and as balm so if you too are looking for something to prep up your lips before lipstick then this is very much in a budget.
9. Shelf Life:
2 Years.
10.Images/Swatch: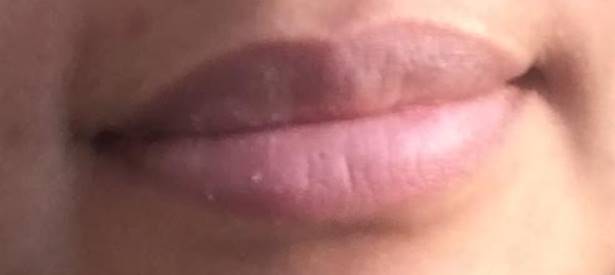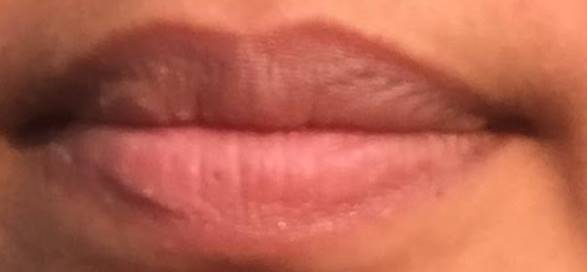 11.Would I buy Organic Harvest Shea Lip Repair Lip balm again?
Yes, would go for other variants, this balm is perfect for summers also as it does not leave any heaviness or warm feeling on the lips.
12.Rating
4.5/5
I hope you find this Organic Harvest Lip Balm Review helpful. Let us know in the comments section about your experience with lip balms by organic harvest.
Other Products Worth Trying Out:
Nivea Fruity Shine Lip Balm Cherry Review And Swatches 
Nivea Fruity Shine Strawberry Lip Balm Review
Lakme 9 to 5 Lipstick Shades With Price and Swatches: Primer + Matte
Lakme Enrich Satin Lipstick Review: Shade- P158
Lakme 9to5 Lipstick Rose Management Review
Lakme 9to5 Lipsticks Review And Swatches- Wine Play
Lakme 9to5 Lipstick Pink Shades: Pink Colar Review
Lakme 9to5 Lipstick Peony Goal Review And Swatches
Lakme 9to5 Lipstick Pink Bureau Review
Lakme 9to5 Lipstick Toffee Nexus Review and Swatches
Lakme 9to5 lipstick review- Tea Break
Lakme 9to5 lipstick shades for fair skin: Pink Slip review
Lakme 9to5 Lipstick Red Chaos Review and Swatches
Lakme 9to5 Lip Color- Brownie Point Review
Lakme 9to5 Lipstick coffee command review
Lakme 9to5 Lipstick Red Coat review
Lakme Eyeconic Kajal Black Review and Swatches
Lakme eyeconic white kajal review
Lakme 9 to 5 Flawless Matte Complexion Compact Review- Melon Matte
Lakme 9 to 5 lipstick review- Coral Case Crease-Less Creme
Lakme 9 to 5 Lip Color Review- Plum Pick
Lakme Enrich Satin Lipstick Review- Shade M422
Elle 18 Color Pops Lipstick Review and Swatches: Roasty Red
Elle 18 Wildberry Wet Color Pops Lipstick Review and Swatches
Elle 18 Color Pops Lipstick Pomegranate Pie Review and Swatches