Maybelline Volum' Express The Falsies Waterproof Mascara Review
So we all know how mascara acts like a magic wand for a complete and glamorous eye makeup.
with the right product, you can darken, thicken, lengthen the lashes giving your eyes a defined look. Here is a review of Maybelline Volum' Express The Falsies Waterproof Mascara. Read on to know the details of what comes in this purple funky bullet.
Packaging:
Sturdy, compact, bright purple colored bullet. Easy to carry and slide in a bag or makeup kit.

Price:
INR 500 for 7.5ml, you can avail it at a good discount online.
Formula:
I was not really a mascara user before and whenever I tried to get myself one, the formulas always compelled me to stay away from mascaras. The stickiness, thick liquid that would make lashes clump and stiff were always disappointing. However, Maybelline volume express waterproof mascara has a good formula. It is not wet and hence fewer chances of smudges during application also setting time is less being a dry formula. Jet black pigmentation – 2 coats are enough. It does not make lashes stiff.
Brush:

Very often it is actually the brush that can make or break the eye look you are trying to achieve.I just love the brush/wand that comes with this product. It is flexible, has short bristles that are very close. It evenly deposits the formula on lashes and helps achieve that volumized glam look in just two coats.
Stay power:
on a normal work day, I don't really have to do any touch up on mascara. It stays all day long and the formula being waterproof and dry, no smudge issues. Also, it does not make the lashes stiff.
Pros:
1. Portable
2. Formula is dry and hence fewer chances of smudging
3.  very well pigmented
4. Flexible brush
5. does not clump lashes
6. Stays for long and easy to maintain
7. does not make lashes stiff
Cons:
the brush has short bristles giving it a more compact shape thus it tends to load and deposit excess mascara on lower lashes. While depositing the mascara to lower lashes use the brush gently with a light touch.
Rating:
4.5/5
Do I recommend buying this product?
Definitely yes!
Swatch: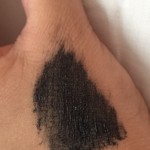 Eyelashes: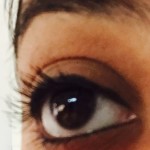 So if you are new to mascaras or looking to add a waterproof mascara to your collection in the limited budget then this product is a must try. They also have a formula which is not waterproof.
---
---
Tip:
You can use eye makeup remover to take it off or use coconut oil. Take some coconut oil on a cotton pad and swipe it over eyelids and lashes.