Lotus Herbals Raspberry Lip Balm Review
This brand is famous as a herbal product brand, they have formulations in skin care and beauty products that promise natural herbal ingredients, free of chemicals thereby ensuring quality and safety.
I tried my hands on Lotus Herbals Raspberry Lip Balm. Read ahead to know more about my experience with this herbal brand in Lotus Herbals Raspberry Lip Balm review below.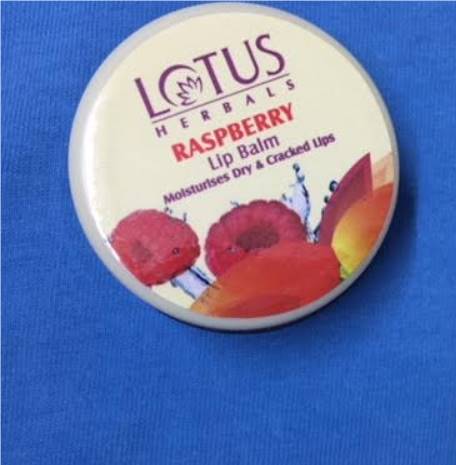 1.Packaging:
This lip balm comes in an acrylic transparent balm pot with a screw cap. You can see the tint from the acrylic pot as it is transparent. No applicator along, you have to apply the product with your fingers on your lips.
Sturdy and travel-friendly packaging.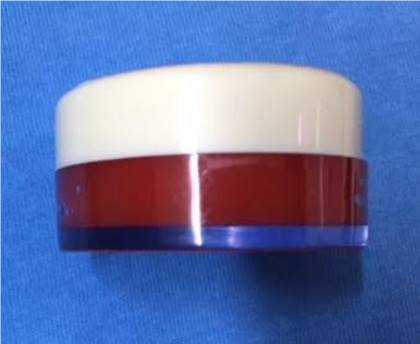 2.Price:
INR 145 for 5g
3.Shelf Life:
3 years
4.Key Ingredients:
Raspberry extract, Honey, Jojoba oil, Almond oil and wheat germ oil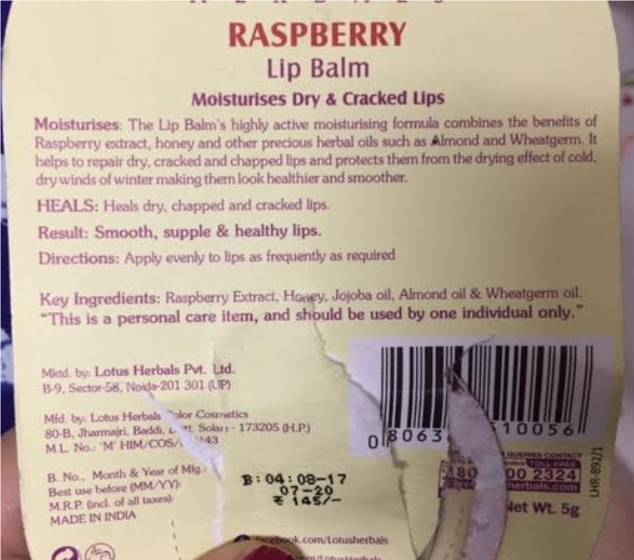 5.Images: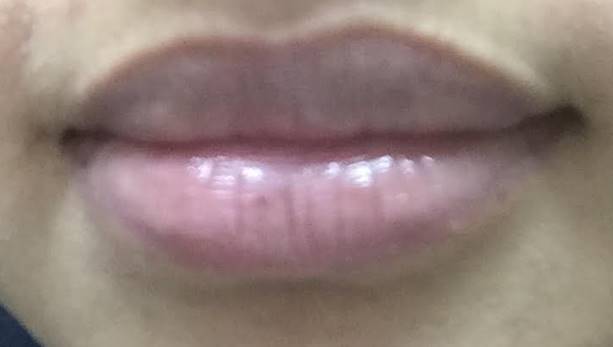 6. Lotus Herbals Raspberry Lip Balm Review- My Experience:
It has fruity fragrance more like strawberries which does not linger for long post application. The lip balm pot is pretty flat so many times you will notice the screw cap leaving your fingers while closing the balm pot.
The product has a red tint to it but the formula is such that it does not leave any color on lips. There is no presence of shimmer or gloss in the balm however it feels or appears like a gloss post application. I expected it to be a pure balm for lip care purposes, not sure of how much of a lip care product it is and how much of a makeup product. Staying power is pretty good, stays on lips for 4-5 hours.
Many might dislike the packaging of the product mainly because of hygiene purposes, however, I like to use these pot like the packaging of a lip balm.
For simplicity purposes, I would compare this to Nivea lip balms as they are popular with many people.
Fruity shine Nivea lip balms are more towards makeup and less of lip repair or lip care when compared to Nivea original lip care lip balm.
I find this product more like Nivea fruity shine and I did not expect it to turn out like that hence a little disappointed.
I would not prefer this balm during summers as it might feel more warm or heavy because of glossy finish.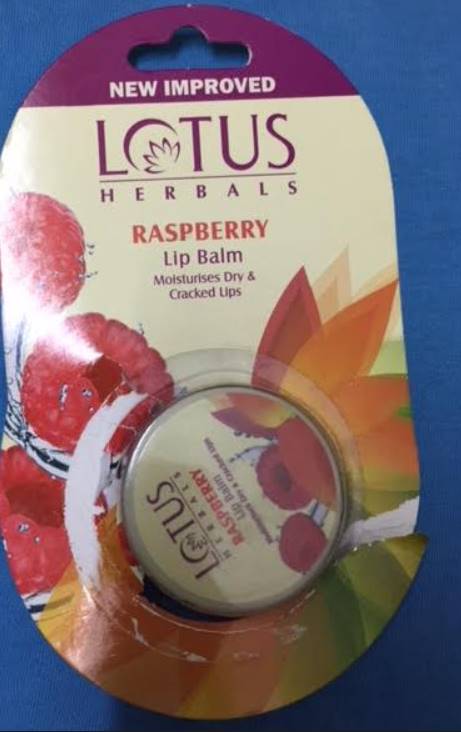 7.Pros:
Fruity Fragrance
No shimmer
Budget-friendly
Herbal brand product
Has a red tint that does not transfer on lips
8.Cons:
Packaging
Glossy finish on lips post application
Not apt for summer time
9.Do I recommend Lotus Herbals Raspberry Lip Balm?
If you are looking for more of lip care and balm like the product don't go for this one.
10.Would I repurchase Lotus Herbals Raspberry Lip Balm?
No
11.Rating:
2/5
In conclusion, this is just a fancy packaging with random promises of healing dry and chapped lips, it does not work overnight or repair lips. It can, however, be just additional lip balm in your vanity but not a fulfilling product for sure!
So, did this Lotus Herbals Raspberry Lip Balm Review turn out to be helpful? Let us know in the comments below.