l'oreal true match foundation review
Hi my Angels!!
So today, I have for you the l'oreal true match foundation review and it's in the shade Ambre Dore/Golden Amber. So it is a struggle to find the right foundation for you in India especially when you are buying online, you just have to risk it :D. So I had been thinking of buying this one for a long time as I had read such good things about it and I did, and here are my views on the product.
Price:
INR 799 for 30 ml. I got this at discount from Nykaa
Packaging: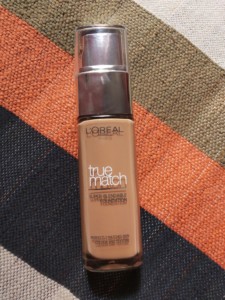 It comes in a glass bottle packaging with a silver plastic pump and a transparent cap over it. The packaging does look luxurious and I love the fact that it has a pump because I had been using Maybelline Fit me for a long time and I absolutely love it, just wished there was a pump as it gets messy and I'm happy that this one has it. It is a glass bottle so can't say it super travel friendly as it can fall and break, but then again most of the foundations in India do come in a glass bottle packaging, so no complains there.
Key ingredients:
I couldn't find any information regarding ingredients on the packaging.
Product description: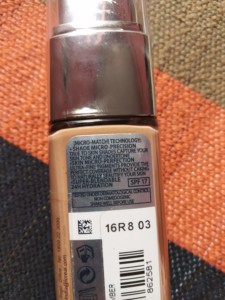 The goodness of micro fine pearls packed in a foundation! The L'Oreal Paris True Match foundation is developed to give your skin pearl like finish and a natural glow. The precise match technology blends smoothly on rough and patchy skin. It helps cover stubborn marks and uneven skin tone. The foundation is created to give maximum coverage without clogging the pores hence it doesn't harm skin and the chances of acne are reduced.
• Consists glycerin hence it hydrates the skin.
• Filled with the goodness of vitamin E.
• Non comedogenic and oil free formula
l'oreal true match foundation review
My experience: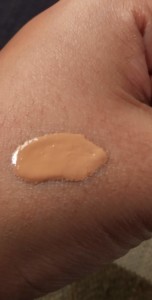 So they do have an extensive shade range in general but in India I think they have just about 14 shades available. And although there are choices, the main focus seems to be on the fairer skin tone. So if your skin color is darker then say, beige it can get difficult to find a perfect match.
So the foundation has a slight liquid consistency. When you look closely you can find really fine golden flecks in it. The foundation blends easily with just hands as well and gives this dewy illuminating finish that I loved. It's just perfect for wearing at parties. Coverage is medium, as I said earlier that I had been using Maybelline fit me earlier and it's a full coverage foundation, this gave a sheer coverage as compared to it.
It's not at all heavy on the skin and stays without creasing for five to six hours. It also has SPF 17 so that's great. Although I do feel I should have gone for a shade lighter for my skin tone, and I fall somewhere between medium to fair skin tone. So I'm sure if I could have got the right shade I would have absolutely loved this foundation. It gives such a natural no makeup-look kind of finish.
I'll still use this one by mixing with a lighter color foundation. So in case you do get a wrong color foundation there are many ways to fix it. Let me know if you want to know more on how to do that and I'll happily write a blog on that.
Pros:
• SPF 17
• Blends like a charm.
• Gives a dewy satiny finish.
• In flash photography, it doesn't give any flashbacks.
• Stays on for a good 6 hours without creasing.
• It has a pump.
Cons:
• Gives medium coverage.
Ratings:
4/5
Do I recommend?
Absolutely, if you can buy the right shade you will like it as well. And this is also a perfect foundation for people that are beginner in makeup or looking for something with light coverage. In case you are looking for something full coverage, you can skip on this one.
Will I repurchase?
I will, and next time with a better shade choice. 😀
So have you tried this foundation, did you like our l'oreal true match foundation review? Let us know in the comment section below, we will love to hear from you.
Rimmel stay matte powder review:
Types of Foundations in makeup: The Ultimate Guide
MAC CONCEALER PALETTE MEDIUM DEEP REVIEW
Wet and wild eyeshadow palette review: coloricon rose in the air
Nykaa Sealed With A Kiss Lip Palette review