Lakme 9 to 5 Lipstick Shades With Price and Swatches: Primer + Matte
Lakme 9 to 5 Lipsticks- For some reason, I feel this range by Lakme instantly connected with every woman and has become a must in our vanity. Your friends or colleagues, there are many who have a favorite daily shade from this range. It got popular and had some really good shades within budget. With that, we thought why not have a look at all the launches from this range and pick the favorites from this list containing Lakme 9 to 5 Lipstick Shades With Price, swatches and shade description.
Lakme 9 to 5 Lipstick Shades With Price:
Price:

 
INR 480
Pros:
The application is very smooth and they are very well pigmented, besides pigment, if you happen to apply multiple swipes of these lipsticks it does not appear dry matte but a velvety textured matte, which I find pretty good.
Being formulated with primer it gives a good base to your lips and gives your lips a very defined appearance post application.
Cons:
It transfers like crazy, having a transferable lipstick is a different thing but I have not experienced such a crazy transfer issue in any other formula, not that it wipes or washes out the color completely from your lips but it stains your cups etc in a very prominent manner.
The confusion arises when you are choosing a color. So, here we are resolving your dilemma by preparing a list of Lakme 9 to 5 Lipstick Shades With Price and swatches so that you can easily make your next purchase.
Let us see the 30 Lakme 9 to 5 Lipstick Shades With Price.
Swatches: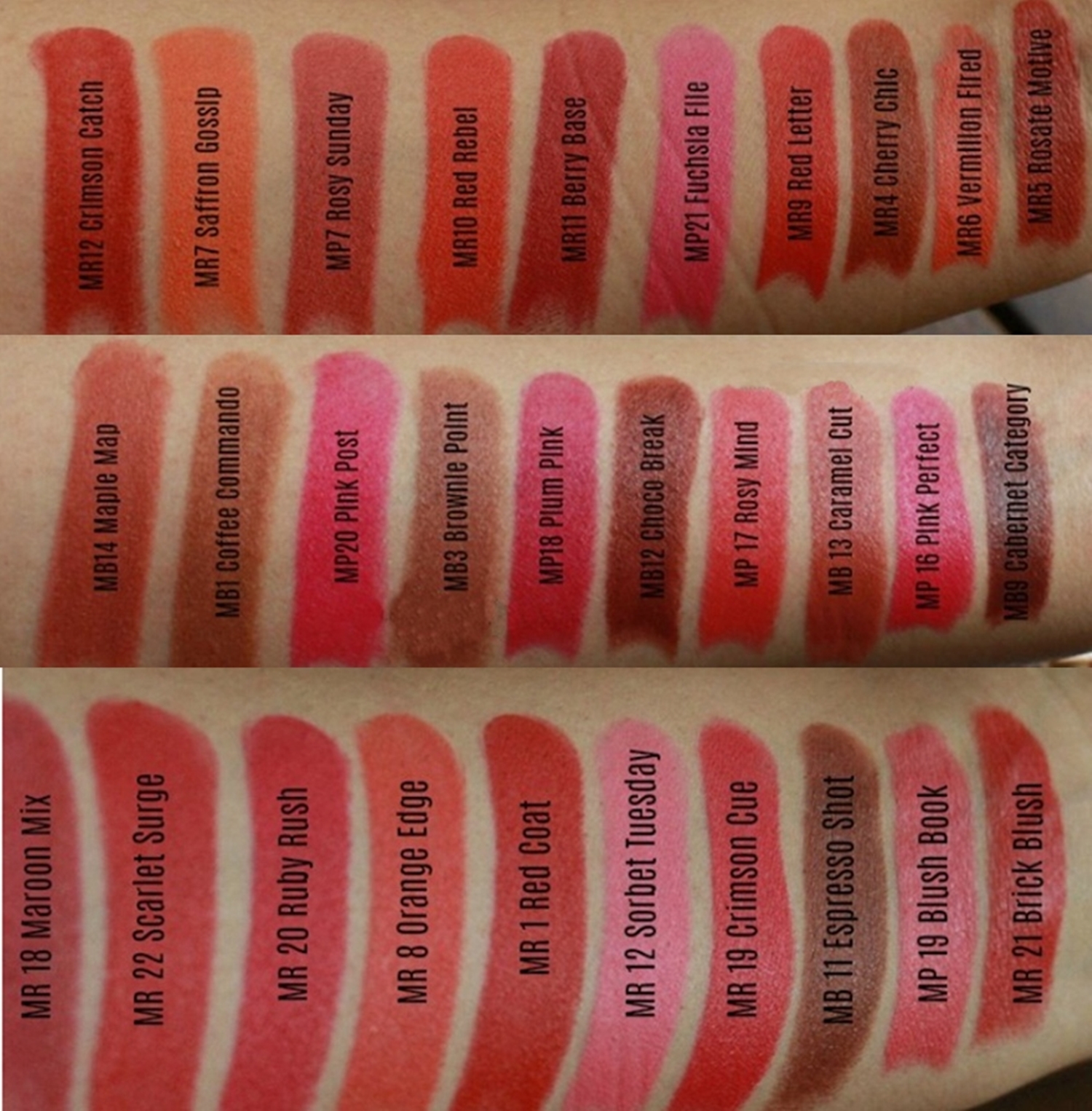 (The range plays majorly in reds and pinks so we have listed the colors in group of red and pinks to ensure easier comparison)
List Of Shades And Shade Description:
1.Red coat :
The perfect red – pigment wise and best for people with warm undertones. This Lakme 9 to 5 Primer + Matte lipstick shade can get loud if the occasion is a regular one but perfect for Parties.
2.Cherry Chic:
If you find reds too red for yourself and have not yet experimented with red color or do not wish to but you need something less loud in the same family then this Lakme 9 to 5 Primer + Matte lipstick is the right shade. I personally love this shade, although it might work well for people with cool undertones I have personally found it to be very universal. My sisters, mother, friends and I wear it and it compliments all skin tones really well.
3.Roseate Motive :
This shade has a good mix of subtle brown and bright red, it works fine for all Indian skin tones if you wish to grab a daily wear red lipstick then this will not disappoint you.
4.Red Letter :
This has to be for people with warm undertones, As the name says it really reminds me of red as projected in love stories or on valentines, it has some brightness to it and is a raw fresh red. Many might not prefer experimenting with this red but if you then you can always pair it with simple eye makeup or a dewy one for a more DIVA glam look.
5.Red Rebel :
This is more of orangish-red, the term Rebel goes with the shade literally. It will compliment people with warm undertones best, be sure if you wish to go for such a poppy and bright color before going for it, I don't think many will prefer this as the daily go-to lipstick.
6.Berry Base:
Berry colors for some reason are my fav, it gives a completely different look to your otherwise regular makeup look where you experiment only with reds and pinks, berry colors also tend to compliment almost all skin tone. It has more of cooler tones to it and more towards a brown plus mauve.
7.Maroon Mix:
A perfect Maroon shade like the one sported by Rekha in the song "Kaisi Paheli" from movie Parineeti. Deep, fresh, rich in texture gives a different edge to your personality.
8.Crimson Cue:
Honestly, I expected this shade to be the best of reds because of its name, but I am disappointed, Looks like a mixture of leftover reds of this range that does nothing unique.
9.Ruby Rush:
It has exactly the ruby-like pink pigment. Compliments people with cooler undertones. If you are not a bright pink or flamingo orange person then this is right in between.
10.Brick Blush:
Exactly brick red, Suits people with warm undertones and does not appear very loud, subtle yet prominent post application.
11.Scarlet Surge:
A common red to suit all Indian skin tones, more towards bluish or purple-red. A hit if you don't wish to have anything bright and loud on your lips, subtle yet red enough for a Party Makeup Look.
12.Rosy Sunday:
Does really resemble natural rose-red color, and not too bright yet very prominent and good shade for all Indian skin tones. I don't think anyone can go wrong with this shade.  I find it more natural rosy than pinks or reds probably because I like the dusky rose shades, the color that a rose has once it is dried out.
13.Sorbet Tuesday:
A pale pink, I don't think it will be a hit with many, Might wash out a majority of skin tones. Better for ones with warm undertones.
14.Pink Perfect:
Just like the name says it is the perfect pink shade, if you have been looking for a perfect hot pink to compliment your skin then this Lakme 9 to 5 Primer + Matte lipstick shade should not disappoint.
15.Plum Pick:
I personally love this plum shade, it leaves a pretty stain and works fine for people with cooler skin tones.
16.Blush Book:
Again a pale shade that might not compliment many skin tones, fine for people with slightly yellow undertones.
17.Pink Post:
This Pink has more of purple undertones and hence might suit people with cooler undertones equally well as it might for people with warmer undertones.
18.Fuschia File:
I expect Fuschia to be more bright however this is just the right amount of bright when it comes to a lipstick, if you really don't want a pink to pop out but be bold enough to make a statement then this is a wise choice. It is more like a barbie pink, neon yet not too loud.
19.Coffee Command:
Dark Deep Brown, multiple swipes will help you achieve a Goth lip color. Should work fine for all skin tones, better for ones with warmer undertones
20.Brownie point:
This shade got famous with many people, has the right amount of brown and some undertones of purple or violet that gives it a fresh new cool appearance post application.
21.Expresso Shot:
This brown is not as deep as the coffee command, if you just wish to have a simple brown lipstick then this is a wise choice, suits majority of the skin tones.
22.Choco Break :
I don't find much difference between this and coffee brown, both are pretty deep, dark rich brown colors and should compliment skins with warmer undertones and to some extent cooler undertones.
23.Vermilion Fired:
A vermilion orangish red, I don't prefer having anything between orange and red, either a red or an orange, anything in between looks like a worn out, rustic red which never really compliments anybody on the lips as our lips too have somewhat similar natural pigment.
24.Saffron Gossip:
Pale orange, with no overshadowing red or blue undertones, just yellow and oranges.
Works fine for people with warmer undertones.
25.Orange Edge:
Perfect poppy bright orange for ones who wish to have a statement lip color which is not red, suits majority of skin tones but best for people with warmer undertones.
26.Cabernet Category:
This shade is between maroon and brown, suits all Indian skin tones, very deep and not a regular wear option.
27.Caramel Cut:
A deeper peach shade more hints of pink in it and will go well with all skin tones.
28.Maple Map:
This one is my favorite. I loved Red chaos from earlier range and this one is somewhere close to it. I like such brown peachy shades that are not exactly on the nude shade side but give you a soft look.
29.Crimson Catch:
This is again a lovely crimson for people with dusky skin tone. It is brick red with more of purple tones to it which makes it less poppy or neon but keeps the red intact.
30.Rosy Mind:
Very nice coral pink, I love coral shades, it can be your go-to shade for daily wear as well. Suits all skin types.
I hope this list of Lakme 9 to 5 Lipstick Shades With Price works out for you when you are making your next lippie purchase!
Other Products Worth Trying Out From Lakme range:
Lakme Lip Love Lip Care Strawberry Review, Swatches, and Price
Lakme Enrich Satin Lipstick Review: Shade- P158
Lakme 9to5 Lipstick Rose Management Review
Lakme 9to5 Lipsticks Review And Swatches- Wine Play
Lakme 9to5 Lipstick Pink Shades: Pink Colar Review
Lakme 9to5 Lipstick Peony Goal Review And Swatches
Lakme 9to5 Lipstick Pink Bureau Review
Lakme 9to5 Lipstick Toffee Nexus Review and Swatches
Lakme 9to5 lipstick review- Tea Break
Lakme 9to5 lipstick shades for fair skin: Pink Slip review
Lakme 9to5 Lipstick Red Chaos Review and Swatches
Lakme 9to5 Lip Color- Brownie Point Review
Lakme 9to5 Lipstick coffee command review
Lakme 9to5 Lipstick Red Coat review
Lakme Eyeconic Kajal Black Review and Swatches
Lakme eyeconic white kajal review
Lakme 9 to 5 Flawless Matte Complexion Compact Review- Melon Matte
Lakme 9 to 5 lipstick review- Coral Case Crease-Less Creme
Lakme 9 to 5 Lip Color Review- Plum Pick
Lakme Enrich Satin Lipstick Review- Shade M422
Other Nice & Affordable Lippies Out There:
Elle 18 Color Pops Lipstick Review and Swatches: Roasty Red
Elle 18 Wildberry Wet Color Pops Lipstick Review and Swatches
Elle 18 Color Pops Lipstick Pomegranate Pie Review and Swatches