Tips and Tricks On How To Make a Small Space Look Bigger: Interior Design Ideas
If you have been looking for a new Home or Apartment you might have noticed that no matter how well developed the area is and how perfect amenities your Builder gives you, the Size of these apartments has shrunk drastically! Besides that many youngsters prefer a small, compact house which is easy on the pocket and maintenance front! Many of us might already be owning a space that is small and does not look as spacious as it should. Whatever be the reason behind owning a small space and now willing to make it look big and roomier, we are here with some tips and tricks that will make your small space look bigger! No more wondering how to make a small space look bigger!
1. Colors:

One of the most important factors to consider if you are wondering how to make a small space look bigger is the color. With increasing trends in wall art and wallpapers, many people experiment with dark deep colors like red and navy blue on the walls! But this idea of using dark colors in a small room will only make it look smaller. Deep colors make the room look more dark and heavy. You should opt for colors in earthy tones and light shades. Pick from white, cream, grey, peaches and honey colors. Sky blue is another soft and light color that can add more light to your space.
2. Curtains:

Ditch the bulky fancy ones with net and all kinds of fabric and frills on it. You can go for light gauzy fabric in white or even better have window blinds installed, they help you keep the privacy part of the space without being bulky.
3. Furniture: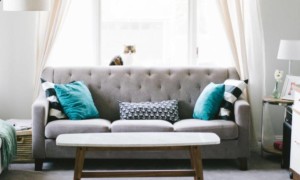 Coming to the color of your furniture or tapestry, if you go for a monochromatic look it again makes your room look more open and spacious.
4. Ceiling:

Now you might be wondering no colors will make your room look boring! Then here is where you experiment with your colors, ceilings. The deep shades here will create an illusion of additional height. You can even have textured wall art on this section to give it a creative trendy look.
5. Modular pieces: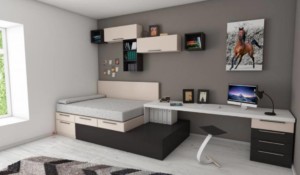 Multipurpose benefits from a single piece of furniture can help you save space with modular pieces. The concepts like fragmented seating and space-saving storage are becoming popular with people. These pieces add an element to your indoor space. There are modular shelves, sofas, storage cabinets and even aquariums. This is the best and most creative way of making your small rooms appear more spacious.
6. Flooring:

Again to add color and experiment, when going monochrome skip the floor, in fact, your floor should stand out and be more visible or rather most visible in your otherwise color-coded walls and room. If you are still wondering how to make a small space look bigger you can have wooden flooring or have a themed carpet spread out.
7. Corners: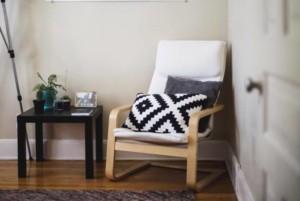 Draw the attention to the corners, have lighting objects like lamps and wall hangings with LED setup to add more softness to the corner and add more life to the corner wall. You can skip the wall décor and concentrate on corners, this will make your space look more open and big. Next, you can try arranging your furniture, cabinets, sofa in L shape or anything that utilizes the corner making it stand out from all other walls.
8. Mirrors:

Simply for the reasons like the reflection of light, mirrors make a room look bigger, you can have one single piece mounted on a wall above your sofa or at the entrance or you can make a collage of small mirrors by mounting them next to each other.
9. TV:

The first thing people look for when arranging their home is a TV unit or a cabinet. But skip that altogether and mount it on the wall itself.
10. Pathway:

Do you notice your visitors getting confused when entering the home as to which way to take- left or right, then it is majorly because of your pathway. If there does not exist any, then create it with the help of carpets on the floor. Make it visible for people to walk this way or so. Align furniture to one side if any piece is blocking the pathway from the living room to your study room.
11. Smaller Footprint: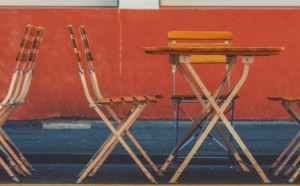 Go for furniture, chairs, and beds with a smaller footprint, take inspiration from vintage pieces, this again gives a lighter look to the room making it more spacious.
We hope have answered the question how to make a small space look bigger, do try this and give your home a makeover. Let us know your way of decor when it comes to saving space in the comment section below.