Here Is How You Can Steal Aria's Looks! Aria Montgomery Style Guide
Pretty Little Liars is one of those shows that thrills you to your core. It is filled with drama, suspense and keeps your brain working all through the episode. Every PLL fan in the world was heartbroken after the show ended on 28th April 2017. It was like the end of an era! I have always been a die-hard PLL fan. So, I always observed the characters keenly. Apart from all the chills and thrills, one thing that inspired me to a great extent was Aria's dress sense and makeup. Being a fashion freak myself, I was always thrilled to see how Aria Montgomery set the trend. So, for all Aria fans out there, I have prepared a full Aria Montgomery Style Guide including her hair, makeup, accessories, and outfits.
Pretty Little Liars Fashion:
Be it Hanna's black hair extensions, Alison's gorgeous curls (Click here for the full guide), Emily's highlights or Spencer's smartness, Pretty Little Liars Fashion give a great deal of competition to all the other famous Hollywood actresses out there. Here is a glimpse to PLL fashion.
Aria Montgomery Style:
If you have been a regular watcher of PLL, then at some point Aria Montgomery Style must have fascinated (sometimes perplexed) you. Although there have been instances when all PLL girls have worn something ridiculous, Aria's general fashion sense has proved to be gorgeous. Despite her instincts to do the right thing and keep her loved ones happy, trouble seems to follow our tiny little Aria. Lucky for fashionistas, she doesn't have much trouble choosing her wardrobe and makeup. Let us dig deeper into PLL fashion comprising that edgy bohemian style!
Aria Montgomery Style Guide:
Aria Montgomery style consists of softness with a certain amount of rebellious streak which is the perfect combination for a woman. These are some things that are pretty common in Aria Montgomery Outfits:
Leather
Velvet
Chiffon
Zippered heels
Chain-handle bags
Patterned knee-highs
Chunky motorcycle boots
How You Can Steal Aria's Looks!

In this section, we are going to discuss every single detail. These are the points we are going to cover up in this Aria Montgomery Style Guide:
Nails
Makeup
Hair 
Outfits
Accessories
Footwear
Funky Accessories:
Remember how she sports every unique accessory from a single black glove to feather earrings and hats. This is where we all fall in love with her look. If you see all her other traits of dressing showcase more of a secretive and bohemian look but her accessories add the feminine fun and color to her attire and that combo makes us fall in love with her style.

Aria Montgomery Style Guide- Accessories:
Her character also reflects the choices and mix match she does, our favorite would be how she pair easy breezy, light, chic dresses with leather jackets and shoes. She keeps some roughness and some femininity in every look.  A perfect balance between the same.
Equal attention is given to her bags. That too looks like a part of outfit unlike me who carries the same bag everywhere without thinking about whether it compliments the outfit or not. That is how one can make that small difference in getting noticed. She prefers big bags in dark colors and has a funky element in that too.


Belts: This has been used mostly to define her waist and make her look taller, the actor playing Aria's character is otherwise very short.


If you have read the books you might notice Aria's character is described as long, tall. In order to achieve the same appearance, Aria prefers going high waist skirts or adding funky belts to her dresses to achieve the taller look. This Belt has become a part of her entire style.
Hair:
The Wavy Style:

She has a gorgeous mane. Soft curls and wavy hair. Well swept fringe and jet black colored tresses. Top it with her choice of colors and accessories or hats in plum and deeper shades of blue, brown and red.I simply love the hairstyle!
The Modern Bob:
This one again is perfect for people wanting to have a low maintenance hair cut. This makes you look younger instantly. Here again Aria plays with waves around the ends and not crown.

Footwear: 
Ever wondered why she has a boot even with a dress! That exactly is what adds to the edginess of her look. She has these detailed boots with buckles and studs, to go with not only her jeans but dresses as well

Nails:
She settles for deeper shades like black, plum, maroons for the nail as well. Neither too long nor too short, this look is perfect and low maintenance. You can simply have your nails square shaped and go for no chip, good finish colors- Gel Nail colors and Matte nail colors should help you achieve the look easily.

Aria Montgomery Makeup:
To complement her green eyes she has these long thick lashes all the time. Immediately her eyes express so much because of this little play between her eye color and lashes. She lines her upper line as well as waterline with a black kohl, semi-goth look achieved! For most of her daily looks, she has dark, eye makeup with a sober natural looking lip color. The best thing about her eye make up comes on the eyebrows: always spot on, thick, long, trimmed and well kept.
Here is a quick Aria Montgomery Makeup Tutorial for You!
You might have noticed how she has minimal makeup and a doll-like look with big, defined eyes. This can be a daily look for many.
For a completely matte look, you need to have a good base and nothing like a primer to give you that flawless base for makeup.
1. You may begin with matte gel by benefit cosmetics-The POREfessional.
2. Next, apply foundation, you can opt for variants in Lakme 9 to 5 range.
3. The main feature of her look is eyes: well defined.
First of all eyebrows: use a liner to line and shape the brows and then fill it with a brow pencil, if you find your hair too grown out you may use plucker and eyebrow wax pencils to tame it and keep it in place.
Next blend a brown eyeshadow preferable from the nudes palette by Maybelline on your eyelid. Layer the crease with a black eyeshadow. You also need to pat some of this black eyeshadow on your lower lash line for that smudgy yet not smudged eyeliner look that Aria sports. For this, you need to use an angled brush.
Dabbing some gel eyeliner on your upper lash line will add more definition. To perfect the overall eye makeup use a highlighter on the brow bone.
Next comes a nude eye pencil, applying it to the inner corner of the eyes will make it look big.
Conceal your under eye dark circles if any and use a peachy pink blush for your cheeks.
4. For lips, we have seen Aria wear gloss with a tint that is a shade darker than her lip color and it completes the doll-like look.
Aria Montgomery Style Guide- Outfits:
Layering:
Multiple pieces! A top, A dress, A cardigan, A full corset! God its layers and layers of clothing. It looks effortless but is a task. If done wrong you can look disastrous.
Aria being creative reflects it in what she wears, her attire is a mix and match outfit with all funky quirky things looking like an ensemble. Easy breezy tops with a denim or a leather jacket on top and a corset underneath or a Net sleeve underneath, it is all about multiple sides of her creative and fun nature.
Laces:
The main drama in her attire-Laces. That additional feminine thing in her bohemian inspired outfits is lovely. Lacy dresses or tops and leather cardigans make just the right amount of chic and sophistication. Having a lacy piece always gives more elegant and sophisticated look.
Colors:
And what about the color? From nail colors to her jet black hair and her jackets everything in dark colors like blacks and plums. It reflects the dark side of her character and also adds edginess to the otherwise sweet fun loving and friendly character of Aria. To achieve contrast she prefers greys, whites, burgundy, and aubergine in her wardrobe as well. Speaking of stylish outfits, also take a look at this detailed Hanna Marin Style guide for you PLL fanatics, because let's face it, she's pretty awesome too, as far as fashion is concerned!
Best Aria Montgomery Outfits:
1. I personally love her style of pairing dainty dresses with boots.

This look is easy to achieve and looks feminine plus has an edge to it.
2. Next best look would be this one where she didn't play with prints.
Something that Aria always does! That missing and we could see more of Aria as a character. This dress with not much of accessories and pattern on the shoulder is lovely, edgy, creative.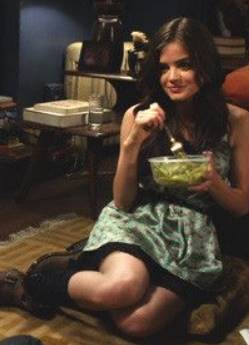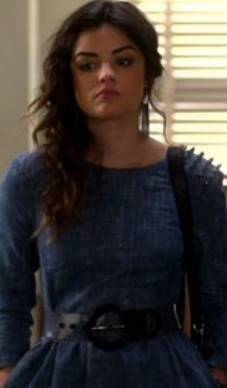 3. Funky Aria:
When Aria does not want to look like her usual doll self then she slays in funky prints like a Fashion Icon. Below outfit compliments her personality or the character perfectly well.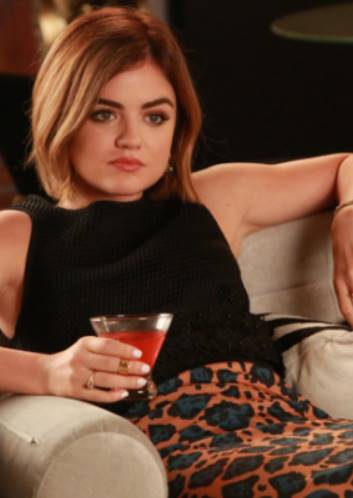 What Makes Aria Montgomery Style So Unique?
Two main characteristics of Aria would be:
Her Confidence and her secretive attitude that add a mystery to her personality.
Otherwise, she is very friendly, romantic, emotional as many of us can relate to.
This also reflects on her clothing and style. Have you noticed the way she has it all mix and match pieces well put in most creative and fun way. She has this impressive mix of goth, bohemian and chic looks. Best of all mixed well.
Aria Montgomery Fashion Gone Wrong: Epic Failures!
Well, we all have our own style icons and like this Aria Montgomery Style Guide, we blindly tend to follow the other guides as well. But does that have to mean that they are always right? Not really!
Do you know what I discovered when I was writing this Aria Montgomery Style Guide? She has had some failures when it comes to her styling, and what do we do? We learn not to include them in our closets! So here are some of the fashion dont's we learned from Aria's fashion choices:
1.Funeral and Fashion:
A Funeral is not the place for you to show off your new black backless dress or a romper or kitty high knee tights! Like seriously you want to do a runway walk at the funeral? No!
2.Glitter:
Too much glaze and glitter all over! Ooohh carry your glares too then. Because with foil pants and shining jacket like this you are going to have a flashy day! And in High School? I'm Speechless!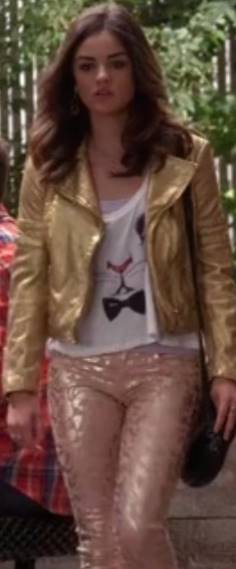 3.Prints Gone Wrong:
Yes, mix and match are not easy and when there are some basic rules! You cannot be having multiple prints all over the body and just look like a laundry stacked up with your face sticking out!
4.Mini Jacket:
Sometimes Aria confuses her Layering with Jacketing! Jackets over every attire are okay but there has to be some consideration given to a basic lacy pretty dress! This one with a blank mini jacket and pretty Dress! Unless your additional statement piece is not complimenting the other one just avoid it!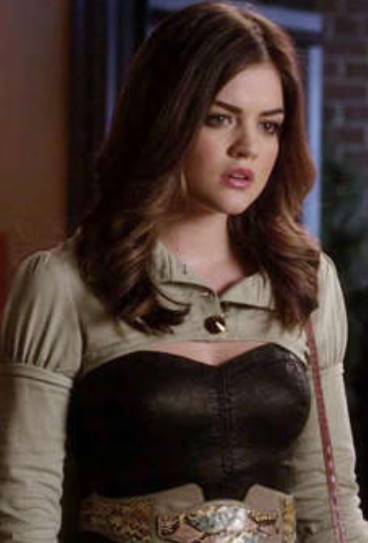 I hope you liked this Aria Montgomery Style Guide. Let us know if you happen to try and experiment with your wardrobe to try on Arias Style in the comments section below.
5. Animal Prints :
It is evident that Aria loves Animal prints but hey to what extent! Below leggings are just a complete no no unless you are shooting for PETA.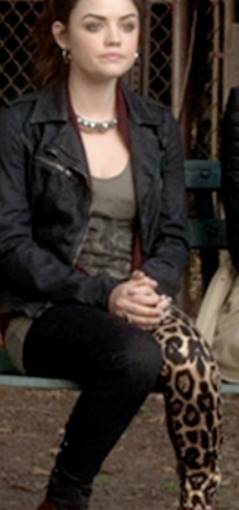 6.Unsuspending Suspender:
Yes! She wears suspenders very often but this one time it seemed like she was either in a hurry or too lazy to let the suspender function like one.

That's where fashion police comes, you see!
Let us know how did you find this Aria Montgomery Style Guide and more on your style icon Aria Montgomery – what inspirations did you get from her looks in the comments section below. Also, check out these really common fashion blunders that make you look ghastly!