Elle 18 Wildberry Wet Color Pops Lipstick Review and Swatches
Elle 18 Wildberry Wet Color Pops Lipstick Review and Swatches:
The Elle 18 color pops lipstick shades cover almost every color ranging from Reds to Browns, Maroons to Lilacs and much more. There are many colors for basically everyone. The Elle 18 Color Pops range has shades suiting all skin tones and doesn't cost much. Today, I am going to review one of the Elle 18 Lipsticks I was gifted by a friend recently that is Elle 18 Wildberry Wet Color Pops Lipstick. I hope this Elle 18 Color Pops Lipstick Review turns out to be helpful.
The packaging of Elle 18 Wildberry Wet Color Pops lip color:
Elle 18 Color Pops Lipsticks come in a black plastic lipstick bullet with a bottom that has to be twisted upward to get the product. The shade number and name are printed at the base of the lipstick. The packaging makes these small lippies a lot easy to carry, mess free and user-friendly.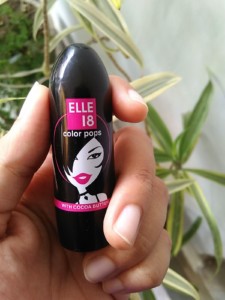 Elle 18 Color Pops Lipstick Price:
Rs.100 for 4.3 g
Ingredients:
Contains Cocoa butter and Jojoba oil. It has a shelf life of 24 months.
Product Description:
'Introducing the New Elle 18 Color Pops. The collection is vibrant and funky and just the right shades for your 7 days. Apply a blast of color with nourishing indulgence with Elle 18 Color Pops Lip Color! They have great features like Cocoa butter and Jojoba oil that makes lips soft and luscious, Smudge free, Available in 51 shades.'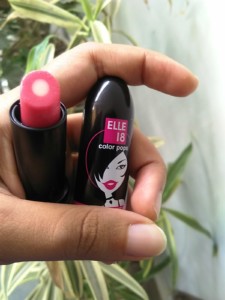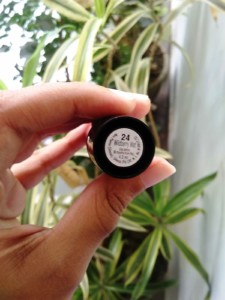 My Experience With 

Elle 18 Wildberry Wet:
Wildberry Wet has ABSOLUTELY NO COLOR AT ALL! I can't stress this enough. The shade looks like it is baby pink in the tube but when applied on lips; it comes off to be transparent. It is just a lip balm. It's not a pigmented lipstick, the tint is almost negligible so dont expect it to show up, but it works well for soothing dry lips with moisture This is completely transparent, not color burst. I expected it to be somewhat similar to the Nivea Fruity Shine Strawberry Lip Balm which has a beautiful pinkish tint, but the name 'color pops' here is totally misleading.
The texture is quite creamy and it easily glides on lips leaving a sheen. It doesn't feel heavy on the lips. Don't get me wrong! I am a huge fan of moisturizing lip balms. What disappointed me was that I was expecting a pink color and I got no color. Although, the expectations I had with Wildberry Wet got fulfilled when I purchased Elle 18 Color Pops Lipstick Pomegranate Pie as this one had the right amount of pigmentation to it. But I still use Elle 18 Wildberry Wet as a lip balm at home or for casual day outs due to its excellent moisturizing properties.
Elle 18 Wildberry Wet Swatches:
See… No color at all!😣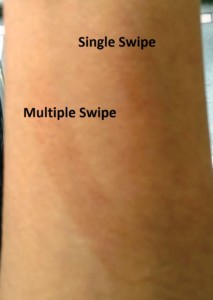 Pros:
Smooth, creamy, soft texture.
Moisturizing
Does not settle into fine lines
Naturally transparent sheen
Pocket-friendly even for just a lip balm
Cons:
Not for those looking for a bright and bold lip color.
Refrigeration of the product is a must.
Just no color at all
These lipsticks break easily
Rating:
Pigmentation: 0/5
Moisturization: 5/5
Do I recommend buying Elle 18 Wildberry Wet?
Yes and no. If you are a fan of transparent and super moisturizing lip balm, then go for it! But if you desire even a tiny trace of color then it's a complete waste of money.
Related products:
Elle 18 Color Pop Lipsticks All Shades: Full Elle 18 Color Pop Range Covered
Lotus Herbals Pure Colors Lipstick – Tangerine (Lotus Herbals lipstick review)
Lakme 9to5 Lipstick Red Coat review 
Lakme 9to5 Lipstick Red Chaos review 
Lakme 9to5 Lipstick Tea Break review 
Lakme 9to5 Lipstick Pink Bureau review 
Lakme 9to5 Lipstick Toffee Nexus review 
Lakme 9to5 Lipstick Pink Slip review 
Lakme 9 to 5 lipstick review- Coral Case Crease-Less Creme
Lakme 9 to 5 Lip Color Review- Plum Pick
Lakme 9to5 Lipstick coffee command review
Lakme 9to5 Lip Color- Brownie Point Review
Lakme Enrich Satin Lipstick Review- Shade M422
Nivea Fruity Shine Strawberry Lip Balm Review
Lakme Eyeconic Kajal Black Review and Swatches
Lakme Eyeconic White Kajal review
Lakme 9 to 5 Flawless Matte Complexion Compact Review- Melon Matte