Elle 18 Color Pop Lipsticks All Shades: Full Elle 18 Color Pop Range Covered
Elle 18 is a hit among young crowd for various reasons, major being budget friendly. A beginner to Make-up or a college-going girl can stock up on Elle 18 Color Pop Lipsticks and nail colors by Elle 18. Besides that, the colors and range are designed keeping youngsters in mind and hence always in trend. As we know how popular this brand is, we are here with a brief analysis of the Elle 18 Color Pop Lipsticks range. Before that, some typical features of Elle 18 Color Pop Lipsticks are mentioned below:
Features of Elle 18 Color Pop Lipsticks:
1. Pink/Red:
Almost all colors of 18 Color Pop Lipsticks have a red or a pink base. You might even get confused at first, colors look very similar.
2. Formula:
The Elle 18 Color Pop Lipsticks are known for a very creamy texture that glides easily. Also in many shades, this creamy texture is a problem as it tends to bleed on multiple swipes. You might have to consider refrigerating some of the shades to keep them in proper shape.
3. Moisturising:
The lipsticks have a balm at the center and it keeps your lips nourished and supple.
4. Budget-friendly:
These Elle 18 Color Pop Lipsticks range between INR 90-100.
Below are the shades launched in the Elle 18 Color Pop Lipsticks range.
(Images: Source)
1. Hot pink:
This was the most preferred shade by the crowd. It has right mix of blue and yellow undertones making this pink suitable for people with pale to dusky skin tone. Single swipe gives a good coverage and the formula is creamy and smooth. It has no shimmer.
2. Pinken:
This shade is towards nude pink color and has no shimmer. This works fine on almost all skin tones as it has brown undertones which makes this pink wearable for daily use. If you are not into loud colors or need a pink for your office or college wear then this is a good shade. Single swipe does not provide enough coverage.
3. Pomegranate Pie:
Best mauve shade from the Elle 18 Color Pop Lipsticks range and if you get used to this shade you will be compelled to repurchase. The color is new, fresh and well toned. It is not loud but has a fun element to it. It is a versatile shade and suits all skin tones. Formula is creamy but coverage needs two swipes or more depending on the lip pigmentation.
Check out Elle 18 Color Pops Lipstick Pomegranate Pie Review and Swatches.
4. Wildberry wet: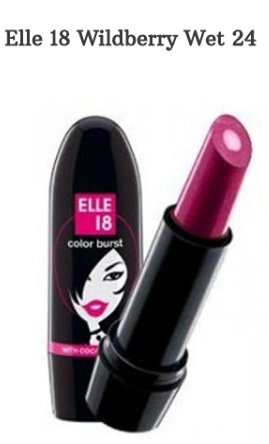 I love this color! It is a nice poppy pink with cool undertones. It has a sheen or gloss like finish which makes this a little less preferred for me. This color might not go well with all skin tones. Best suited for people with wheatish to chestnut skin shade.
Check out Elle 18 Wildberry Wet Color Pops Lipstick Review and Swatches.
5. Pink fever:
This is a pink somewhat closer to your natural lip color. This pink has right mix of brown shade and is well pigmented. It is suitable to all skin tones.
6. Baked Peach:
As the name suggests this one is peach and not pink! For a change this shade stands out as majority of the other shades play around pink color. This one is a browny peachy shade. If you like shimmer and lipstick then you will love this lipstick. The shimmer is decent and subtle not loud. Suits people with beige to chestnut skin tones.
7. Rosy Blush:
This color has warm undertones which makes it suitable for all skin tones however the name is not apt with shade. On application the color is on orange side and not rosy. It is the right poppy fresh shade for summertime however the formula is too creamy.
It tends to bleed on multiple swipes and that makes it less popular among people. When it comes to orange shades it is better to have something bright than something with more brown shade as it makes the color appear dull.
8. Roasty red:
This shade again is universal, suits all skin tones. It has a tint of pigment and that makes this color a daily option. On application it looks like a well tinted balm and hence not loud for daily use. Plus if you have been conscious of wearing red then this will help you out. The red is just well muted for all occasions. The formula however is too creamy.
Check out Elle 18 Color Pops Lipstick Review and Swatches: Roasty Red.
9. Maroon Iris:
This shade again has a good pigment and poppy color. Perfect for your party makes up looks and if you wish to experiment with bold colors. This is best for people with dusky skin tones. It compliments Indian skin tones really well! My fav for Durga puja! The major issue with this color is that of bleeding because of it extremely creamy formula. The pigment is great, one swipe imparts the color really well.
10. Iced Chocolate:
It is a very soft brown with bright undertones and silver shimmer particles. Glitter on lips is not everyone's favorite, so this shade is not as popular as its other cousins in Elle 18. It is suitable for people with medium to dark skin tones and works well if you are having a night event or party to attend.
11. Apple Strings:
Of all the shades from the Elle 18 Color Pop Lipsticks range, this one is a must-have. The term apple red is perfect with the shade, it has subtle brown undertones and lovely fresh color. If you find red too loud and fear to experiment then this one has to be your first pick.
It is not loud to the point that will make you conscious but is a really fresh poppy red. It has great pigment and provides good coverage in one swipe.
12. Burgundy Wine:
This is a lovely berry shade, purple with pink undertones. This one is apt for your party looks, especially in winters. Aubergine, Purple, Berry shades are in now and this Elle 18 Color Pop Lipsticks shade is a must-have. Many might not consider this as daily shade as wine color is comparatively more on the bold or color side than red or pink. Not as daily shade but definitely a statement color.
13. Coral Romance:
A coral shade with more orange undertones than pink or red. It does not have any glitter or gloss, which makes it my fav. But the formula tends to make this shade easily breakable and hence consider keeping it at a cool temperature. Ensure that you have moisturized lips before it's application. The color tends to highlight or settle in dry lips. This will suit people with medium to dark skin.
14. Grape Rain:
This is just like your black current pulp color. It has shimmer particles and best for your party looks as it is a new color. It is more into violet with blue undertones and not purple.
This shade suits all skin tones.
15. Miss Pink:
If you were waiting for a nude shade by Elle 18 then this is the one. It has a glossy finish, which might not go well with everyone, as it is a personal choice. It looks and works more like a gloss than a lipstick. It works fine for all skin tones. If you just need some glossy effect on your lips then this can be your go-to option as daily lipstick.
With that, we have covered all the Elle 18 Color Pop Lipsticks range. Do let us know about your experience with any of the above shades from this range in the comments section below.
Also, check out Elle 18 Eyeliner Review: Water Resistant Black Out Liner Review and Swatches.