Dabur Gulabari Cold Cream Review
Winter and dry itchy skin- not the right combination if you wish to make the most of this season. Many tend to opt for home remedies however, it is not practical at all times. Some of them are using glycerin with rose water and lemon juice is to make skin soft and smooth. But now we have Dabur claiming a winter cream with exactly rose water and other nourishing ingredients. I find it as the best cream for this season and here I am with Dabur Gulabari Cold Cream Review.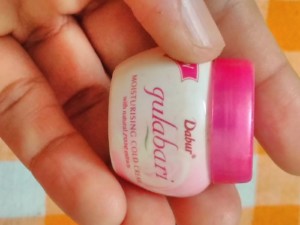 1.The Packaging of Dabur Gulabari: Moisturizing Cold Cream:
I grabbed a very tiny version of the packaging for review.  This product comes in a white bottle with bright pink screw cap. It is sturdy, travel-friendly and tiny to take any space in your vanity bag.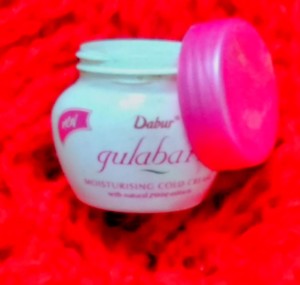 2.Price:
INR 90 for 100 gm
3.Ingredients:
Key Ingredients: vitamin E, rose extract and glycerine
4.Product Description:
Dabur Gulabari Cold Cream is a perfect cream for winter to make your skin soft and smooth. It basically maintains the moisture of the skin, protect skin from winter dryness and let the skin glow.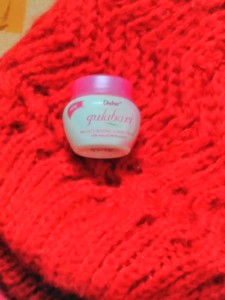 5.Dabur Gulabari Cold Cream  Review- 
My Personal Experience:
Dabur Gulabari Cold Cream is most suitable for dry skin and that makes it best for winter time. It keeps the skin nourished and smooth for a long time. It does leave some stickiness behind if you over apply it. Best suited for dry and normal skin tone, oily skin should stay away from this product. It has a mild floral fragrance. The consistency of Dabur Gulabari Cold Cream is neither too thick nor too thin. It is just appropriate. It glides on skin very easily thereby making it apt for a body lotion as well. Also, the key ingredients contained in this product helps soothe and repair dry skin.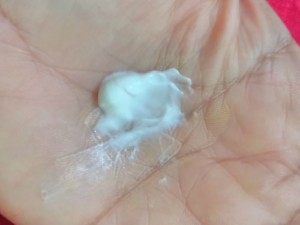 6.Pros:
Best ingredients rose water, glycerin and vitamin E.
Makes skin soft and smooth
Provides deep nourishment
Mild fragrance
Packaging is cute and easy to carry
Budget-friendly
Easily available
7.Cons:
It may  not be suitable for oily skin
8.Rating:
4.5/5
9.Do I recommend buying Dabur Gulabari Cold Cream?
First of all the key ingredients are great for winter skin issues like dryness. As a result, it gives your skin the nourishment required to heal and repair itself. It is travel-friendly within budget. You can find it in the stores easily. In conclusion, I would definitely recommend this cream to people with a dry and normal skin for the winter season.
So, is this Dabur Gulabari Cold Cream Review helpful? Let us know in the comments below.
Related:
Aromamagic Almond Nourishing Cream Review- Blossom Kochhar's Aromamagic Store
Joy Honey and Almond Cream Review: Nourishing Skin Cream
Oriflame ESSENTIALS Cold Cream Review
Miraculous recovery of my scar (Thanks to Luminesce Cellular Rejuvenation Serum)
Aquasoft moisturizing lotion review
Spa Ceylon Luxury Ayurveda Green Mint Cooling Foot Scrub review
Luminesce Cellular Rejuvenation Serum product review
The Body Shop hand Cream- Moringa
Vaseline Intensive Care Aloe Soothe Review: Joy Honey & Almonds  CreamAloe Vera
Patanjali Aloe Vera Gel review or Baba Ramdev Aloe Vera gel review
Luminesce Daily Moisturizing Complex – Product Review
Product review: Instantly Ageless review (anti-wrinkle micro cream)
Lotus Herbals Moisturizer Review: Sheamoist Shea Butter and Real Strawberry