Here Is How You Can Steal Hanna's Looks! Hanna Marin Style Guide
After the Aria Montgomery Style Guide and Alison's beautiful curls tutorial was such a big hit with the fans, we're back with another piece of PLL Fashion, that is, Hanna Marin style guide! She gets all the credits for the glamour quotient of the show pretty little liars. If you too have been following the show you might have noticed how she slays it every time when it comes to style and trends. Here we are with a step-by-step Hanna Marin Style Guide. 😍
Image credits: https://in.pinterest.com
She always manages to have that wow and glam quotient in her attire in PLL fashion. It has to be catchy, girly and a statement.
This compliments her character really well as it showcases her main characteristics.
Let us have a look at them.
1.Fat to fit:
Hanna's character has had a transition from obesity to fitter version. She now loves her curves, does not shy away and wears gears like belts or high waisted pants to accentuate those curves. Thumbs up for this one.
2.Rich to poor:
While people tend to wear what they are or what they love, Hanna is the one who would want to showcase a relatively more happy,rich and strong personality. She would borrow the best of pieces to look well put and attractive. She does not want to showcase the financial troubles in her life and she manages to cover that part of her story with her rich quality clothing and style.
Above two characteristics make her style really different from Aria, who tends to have more of layers and pieces that nobody would match together. Here her character is covering all the dark side of her life and showcasing a chic teenager look.
whereas Hanna works on maintaining glam and along with that she manages to keep it simple and classic.
For a more detailed Hanna Marin Style Guide read ahead:
oh! yeah, you are most welcome. 😄
Hanna Marin hairstyles: 💇
She has golden blonde hair and while there are many ways she likes to style it, sometimes tucking it into a messy high bun and other times leaving it loose. Our personal favorite is the one with thin braids on the sides and a middle partition. This is perfect for your casual as well as date hairstyle. It is also very simple. She has loose curls or waves that again compliment her facial shape.
How To Achieve This Hanna Marin Hairstyle:

To achieve this look you need to part your hair from the middle. Using a heat protectant loosely curl only the ends of your hair. Do it in large sections to ensure just a freestyle wavy hair and not a dolled up permed curly look. Next spray Schwarzkopf hair setting spray on your hair and scrunch the end with your hand gently to define the waves and make it stay longer.
Tadaaa!!! 🤗We are done with the main part!
You can leave it here or go for one more step. Taking sections from corners or apple of your forehead make braids and pin them back. This gives a fresh girly cute look.
Hanna Marin Makeup Tutorial:
Hanna has blue eyes and she does a makeup that would complement the same. She flaunts blues of all shades and similar comes out in her makeup as well.
Hanna Marin Smokey Eye With Aqua Shades:
If you notice her eye color it is blue. She tends to go for a smokey eye look buy again with aqua shades. She does not go for black-brown average smokey eye makeup. Her character is known for glamorous choices and she tends to go for black and blue mixed smokey eye. You too can achieve this look. Use a primer on your eyelids as we will tend to go for deeper shades of a blue primed base will help the blue stand out and not fade away with the black.
Begin with a brush and charcoal pencil. A flat brush. Instead of lining your eyes with eyeliner directly, take some kohl on your brush and then line the top and bottom lash lines.
This gives a softly smudged look and a perfect start to smokey effect.
Next, rub a deep blue color on the lids and go for a peachy pastel shade on the crease. This peachy shade won't stand out but will blend into the blue and black well and make it stay for long. Spread this across your crease well.
Now take a deep blue eyeliner, I would go for one by NYX. Line your lower lashline.
Coming towards facial makeup, apart from your regular base of foundation and concealer skip the contour game and just use a highlighter plus peachy blush (a preferably similar shade that you used on the eye crease).
Use a simple sheer balm on your lips and top it with gloss in natural pink shades.
If you notice her makeup concentrates more on color towards eye alone, overall it is very sober, pastel shades so that her eye look is more visible. We love this style!
Hanna Marin Outfits:
Again her love for blue is evident in her attire.
She has a stock of tops and blouses in almost all shades of blue. Yes, all and not just 50 shades of blue!
1. Ruffles
She does prefer a more girly look in her clothing and tends to go for tops and shirts with more of ruffles, drapes and fancy sleeves. We love this because it is easy to transform your normal daily casual tee shirt look girls to a date night or a formal setting look. Besides that, she loves to sport her intelligent, classic and rich girl choices so she opts for smart casuals which is very much between casual and formals.
2. Body-Hugging Clothes
She also tends to accentuate her waist and wears high waisted pants or draped dresses that would hug her curves and project it elegantly.
3. Girly Dresses
She is more of a dresses person as she tends to go for one single piece style dresses.
4. Jackets
We love her shrug size jackets or blazers on these drape dresses.
5. Mix and Match
Just like we have Aria playing with prints here we notice how Hanna loves to play with patterns and folds and not prints. She would go for solid colors with pleats or ruffles or frills at the waist, shoulder or neck. She also likes to have more of a tailored piece over a mix match pieces.
Hanna Marin Shoes:
She loves boots and pairs them with dressy dresses as well as pants apart from that she does not have a specific choice in a style of footwear. You can see her sporting variety of sandals and colors.
The only thing constant is that she never wears anything except heels. She can wear 6-7inch heels and walk around the school or street as if it were her runway.
Personally, we all would love to but heels hurt and I always opt for wedged heels or plain basic flat shoes.
Hanna Marin Accessories:
She loves long necklaces and hoop earrings. Her choice is more of statement jewelry. She would not want her earring or neck piece to overshadow each other instead she would prefer her single piece outstanding with others complimenting it.
If she goes for trendy neckwear she will keep it simple on ears and so on. She also tends to have a good collection with rings. You will notice nice rock jewelry and chic jewelry together. A complete knuckle gear or a finger gear and so on. Like we mentioned she loves to think of every look as runway one she works on jewelry with that similar thought.
Hanna Marin Nails:
She keeps her nails always well manicured with almond shaped nails that are long but not too long.
She goes for a variety of colors when it comes to nails and our favorite is her orange-red nails. It is a fresh pop color and compliments her skin really well. Next, she does not go overboard with nail art, she loves some art on her nails but mostly restricted to accent nail art wherein you would have one nail with some glitter and other nails in plain solid colors.
Hanna Marin Bags:
Hanna Marin Style Guide would be incomplete without this section.
Seems like she hoards bags like many of us.
she will not restrict to slings or big bags.
She would just carry her fav bags whenever she would want to. Like her choices for patterns in clothing, she has similar taste in bags as well. She opts for bows and frills or fringes on her bags and slings to make it more of an accessory and not just a bag to carry stuff around.
When it comes to colors of the bag she will sport many. It is not restricted to one shade, rather her bag colors range from yellow to black and from pastel to bright peachy orange.
Fashion lessons by Hanna Marin with this Hanna Marin Style Guide:
1.Decide on what you want to project and wear clothing and accessories accordingly to compliment each other.
2.Go for patterns and not prints always. Prints can be replicated but patterns make you look well dressed and Sophisticated with a touch of glamour.
3.Go for one color and not a range of colors. Especially with makeup if you tend to have bright lipstick go sober with eyes and if you have a statement eye makeup then go sober with lips.
4.Wear what fits your shape and highlights the best points of the same without being shy about your heavy bust or butt wear dresses that would accentuate your curves and not hide it.
5.Walk like a boss in your high heels, confidence is a killer.
6.Think of statement pieces and not fashion or trend always. If you concentrate on single feature or piece you will make more wise choices when shopping.
7.Don't be afraid of colors, have a variety of them in your wardrobe. All blacks or dark shades is a big no no. Having shades ranging from pastels to deeper shades makes it easy for you to experiment with different colors and keep reinventing your look.
8.The more simple you try to achieve the more elegant you will look. You can be dressy and dolled up but choose pieces that don't show how much of an effort went into putting things together. The more effortless your style is the more elegant and style its projects.
Hanna Marin Fashion Blunders:
While we agree she has a good taste when it comes to fashion she did make our eyes go buzzs when she went in for below two fashion fails.
1.Footwear not for feet:
She loves heels but maybe her feet don't. It has been sometimes very painful for viewers to look at how much those heels hurt her. Her love for footwear goes for choices which are not always practical and at times seems like she borrowed a piece or two from lady gaga!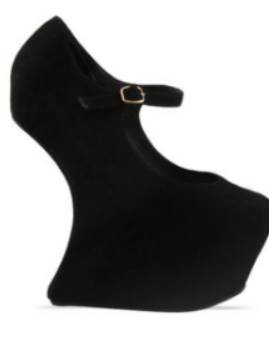 2.Friends' clothes:

This dress just does not look like what she otherwise would opt for. Seems like she was in a hurry and ran into Arias wardrobe.
Too much of mix-match that went wrong!!!
3.Funeral wear: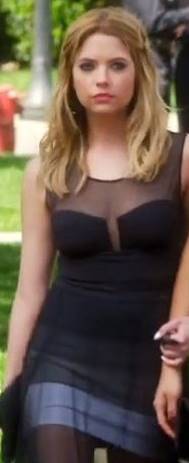 We know she thinks of every day as a runway but hey funeral is funeral and this dress made the pavement walk at the funeral more like a ramp!
With that we would end this Hanna Marin Style Guide post here and are more eager to know what you try and what you loved from Hanna Marin looks in the comments section below! Also, check out these really common fashion blunders that make you look ghastly!