Biotique-Bio Clove Purifying Anti Blemish Face Pack Review
Come summers and your skin problems start surfacing. Sweat and heat can lead to many skin problems and the major being acne. we are here with Biotique-Bio Clove Purifying Anti Blemish Face Pack Review.
If you notice your skin and oil glands going crazy and messing it up completely with Acne and boils all over, you might tend to go for drying, cooling face packs.
Many resort to home remedies thinking they are quick and safe. But are they really safe? You really think a lemon juice face pack can keep your skin healthy and glowing by breaking its pH balance completely!!
I was a fan of DIY beauty and skincare but soon I realized all that is stated in these videos is not right. Things like lemon and aspirin when applied on the skin directly will do more harm than good.
That's when I resorted to non-comedogenic gentle cleansers and occasionally opted for packs that are herbal, ayurvedic or organic.
Now these terms might confuse you and we will explore them further soon, but before that, I am here with Biotique-Bio Clove Purifying Anti Blemish Face Pack Review.
Read ahead to know more about this product and whether you should go for it this summer or try other variants!
1. Packaging:
This product comes in a tub-like container, with a green screw cap. It is small in size does not take much space on your counter and well packed to avoid any leakage or spills.
2. Price:
INR 199 for 75gm
3. Ingredients: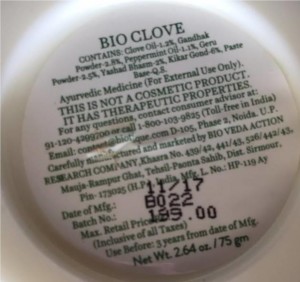 4. Image: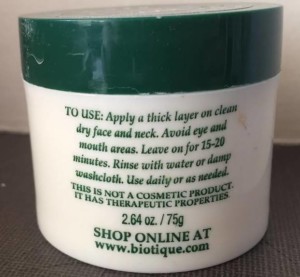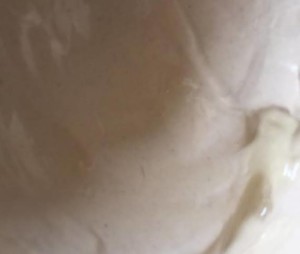 5. Biotique-Bio Clove Purifying Anti Blemish Face Pack Review My Experience:
I have a combination skin with oily T zone. My skin gives me a tough time in summers. I have to take additional measures to keep it clean than just cleanser and hydration. This pack has all one needs to maintain the right balance of oil on skin without drying it out.
The fragrance might not be pleasant for many, I personally find it refreshing. The texture is smooth and rich.
Application:
As per directions on the product, this is to be applied to your dry clean face. I, however, moisten my face a little before applying the pack to smoothen the process. The product can be applied well like a cream.
Because of clove oil, it has this stingy cool feeling. This product is to be kept for 10-15minutes. Washing or taking this product off is easy, does not require additional use of water or tissue.
The feeling post this pack is very nice, it does not dry skin or make it red. There is no stretchy feeling either. I notice such products especially mud or clay masks tend to make the skin stretchy, dry. This one does its job just fine.
The application is easy as it is a ready to use product without much mixing and directions. This makes it a quick face when running late or traveling.
I have acne prone skin and it does work on it well. Generally, I stay away from spot treatment on my pimples fearing blemishes and this product does that job as well for me. I dab small dots on problem areas or zits and acne. It dries the pimple and cools the skin.
That being said, it is not an instant solution but it provides relief from the skin issues like acne and zits without being harsh on the skin. Blemish removal might take time and will update the review post a long use of this product.
6. Pros:
Ready to use
Travel-friendly packaging
Budget-friendly
Does not dry skin
Easy to apply and remove
Works on oily acne prone skin
7. Cons:
Fragrance might be an issue for some
Tub packaging does increase hygiene issues
8. Do I recommend buying the Biotique-Bio Clove Purifying Anti Blemish Face Pack?
Yes!
9. Will I repurchase this Product?
Yes!
10. Rating:
4.8/5
I hope this Biotique-Bio Clove Purifying Anti Blemish Face Pack Review was helpful and you are able to make a wise choice for your skin this summer. Do mention your personal experience with this product in the comments section below!
Related:
Biotique Walnut Bark Shampoo Review
BIOTIQUE PAPAYA SCRUB REVIEW: REVITALIZING TAN–REMOVAL SCRUB
Lacto Calamine Oil Balance Face scrub Review
Lakme Blush and Glow Face Wash Review- Strawberry
Everyuth Fruit Face Wash Review: Price, Pros And Cons
Himalaya Purifying Neem Face Wash Review and Price