BioCare Gold Beauty Cream: BioCare Cream Review
Hello People!! Today I will be reviewing the BioCare Gold Beauty Cream which I purchased recently from a nearby shop. "Biocare", "gold", and "beauty"- these 3 words caught my attention which prompted me to make the purchase. Let's take a look at this BioCare cream review and how it turned out for me.
PRICE:
INR 299
PACKAGING:
The cream comes in a transparent plastic tub shaped bottle with a white twist on cap. The packaging seems cheap and not very travel-friendly.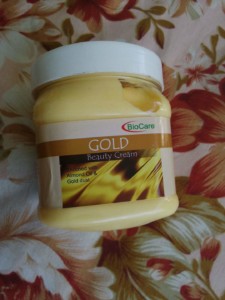 KEY INGREDIENTS:
They say it is enriched with Almond Oil and Gold dust, although ingredient list doesn't show gold dust in it. Also, the ingredients mentioned are loaded with chemicals. You can do a google search to get a better idea. It does contain parabens as well.
PRODUCT DESCRIPTION:
The product says it's a soft light cream enriched with natural oils for total skin nourishment. Smoothes patchy skin. Contains almond proteins that stimulate new cell regeneration and grow, nourish and condition the skin visibly firms and smooths it.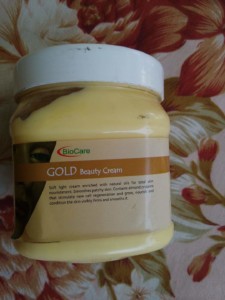 BIOCARE CREAM REVIEW-

 
MY EXPERIENCE:
The cream is light yellow in color and has a creamy texture. I don't like its smell cause it's quite strong and chemically. I bought it so that I could use it as a massage cream. But I have to say I am disappointed with the product.
First of all, it doesn't smell very nice. Second, when I used it as a massage cream, although it feels kinda oily it made my skin weirdly dry afterward.
I did remove the cream with a damp cloth from my face as it is mentioned in the description. But to my horror the next day I woke up with an allergic reaction, which took some time to subside, and since that day I haven't gone anywhere near the product.

PROS:
Can't seem to find any except that it is affordable and easily available online.
CONS:
• OILY
• Chemical fragrance
• Irritates the skin
• Contains Parabens
RATING:
1/5
DO I RECOMMEND?
No, not at all. Please don't buy this product. It can harm your skin rather than do any good. Better to go for coconut oil or something if you're on a budget and looking for a massage cream. I wanted to try out other BioCare products but now I don't think so!
So, what do you think of this BioCare cream review? Let us know in the comments below.
Related:
Dabur Gulabari Cold Cream Review
Boroplus Antiseptic Cream Review: Price, Pros And Cons
Joy Honey and Almond Cream Review: Nourishing Skin Cream
Oriflame ESSENTIALS Cold Cream Review